It's Time To Adopt a
Hotel Content Management System
Our hotel content management system allows you to have one place to organize all of your hotel's photos, property and room type descriptions, location coordinates, and amenities.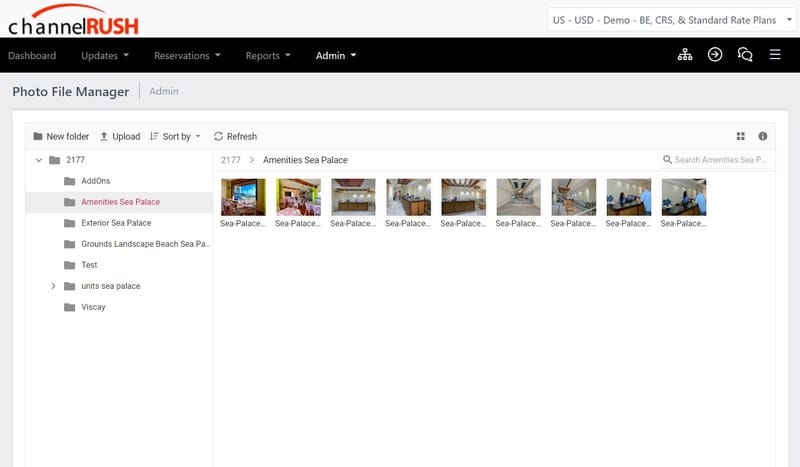 Content Distribution
Provide a URL, send a zip file, or push your content in real-time to OTAs that support content delivery.

Centralized Content
Have one place for everyone to access and manage your hotel's photos and descriptions.

Photo Management
Uploaded photos are automatically optimized for fast off server loading.
Save Time, Get Organized, and Quickly Distribute Content

Venues
Store and organize content for on-property venues such as restaurants, wedding venues, spas, night clubs, etc.

Multiple Properties
Easily access and manage content for all of your properties in one place.

Quit Doing It Manually
For resorts with limited front desk office hours, automatic close-outs are issued once the front desk is closed.
Frequently Asked Questions
What is a CMS?
A CMS, or Content Management System, is a software app that allows users to create, manage, and publish digital content, such as descriptions, images, and videos, on a website without the need for extensive technical knowledge.
What are the benefits of using a CMS for my hotel?
A CMS allows for easy creation and management of digital content, saving time and resources for businesses. It also allows for multiple users to access and contribute to the website, and provides flexibility in management and centralized deployment.
Can I use your Hotel CMS with my booking engine?
Yes, you can use our CMS with your booking engine, or our ChannelRUSH Hotel Booking Engine.
Let's Chat About It via Email
Drop us your email and we'll reach out to discuss your requirements…